2016 in Figures - Asia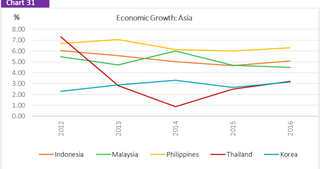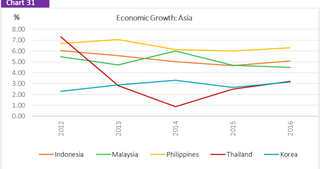 CEIC Gallery/World Trend Database/Hot Topics - 2016 Figures/Part 7 - January 14, 2016
√
Growth in
Developing Asia
will slow down for the third consecutive year since 2013. In 2016 growth is expected to decrease to 6.4% - the slowest pace since 2001.
√
Lower growth in Developing Asia is mainly due to the expectations for weak growth in China in 2016. However, the growth in other major economies in the region, such as
Malaysia
, will slow down in 2016.
√
After weaker economic performance in 2015
Indonesia
and
Philippines
will improve in 2016. Indonesia's economy is expected to increase by 5.1% after 4.7% in 2015, while Philippines will grow by 6.3% compared to 6% in 2015.
√
In 2016 real GDP growth in
Korea
will increase to 3.2% from 2.7% in 2015.
√
Better economic performance in 2016 is expected for
Singapore, Hong Kong
and
Taiwan
as the growth in these countries will reach 2.9%, 2.7% and 2.6% respectively.
Note: The charts above show highlights of the latest International Monetary Fund's forecasts for 2016. Data series are obtained from CEIC's Global Economic Monitor, Regional and Country Forecast datasets.
Discuss this post
and many other topics in our
LinkedIn Group
(you must be a LinkedIn member to participate). Request a
Free Trial Subscription
.
Back to Blog