China Industrial Enterprise Profit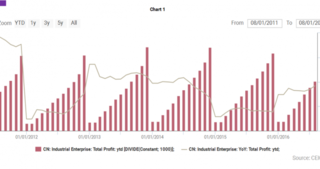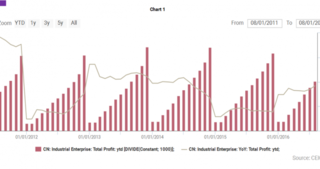 CEIC Gallery/Emerging Economies - October 5th, 2016
Summary
For the first eight months, industrial enterprises' profits amounted to Rmb4.1trn, representing +8.4% YoY, 1.5ppt faster than that of the first seven months. Single month profit accelerated by 8.5ppt from July to +9.5% YoY in August, marking the fastest growth since the beginning of the year.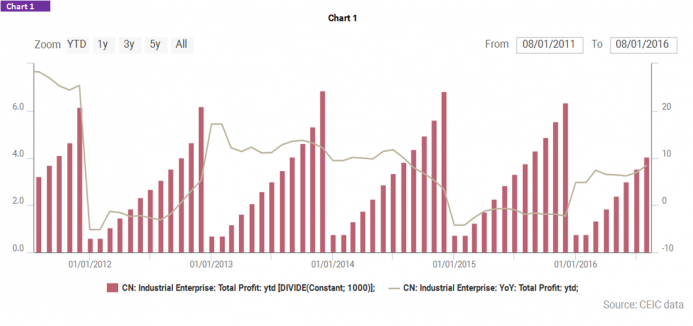 Stronger Sales
Chart 2.1 & 2.2: In August, China's industrial production continued to grow steadily. The real year-on-year growth of VAI output reached 6.3%, 0.3ppt faster than that of July. Thus, total revenue of industrial enterprises increased 4.9% YoY to Rmb71.7trn for the first eight months, quickned by 0.3ppt from the first seven months.
Chart 2.3: Product sales rait improved by 0.2ppt to 98.1%, compared to the last year.
Chart 2.4 & 2.5: In August, delivery value of export amounted Rmb1.0trn, representing +2.9% YoY real growth, which added the YTD number to Rmb7.5trn. It's worth noting that YTD delivery value of export first stopped declining by slightly increasing 0.1% YoY since June 2015.
Chart 2.6: Benefited from the growing industrial prodcution and sales, price was also back to the upward channel. In August, PPI reading was 99.2%, up by 0.9ppt from July, which was almost back to last year level.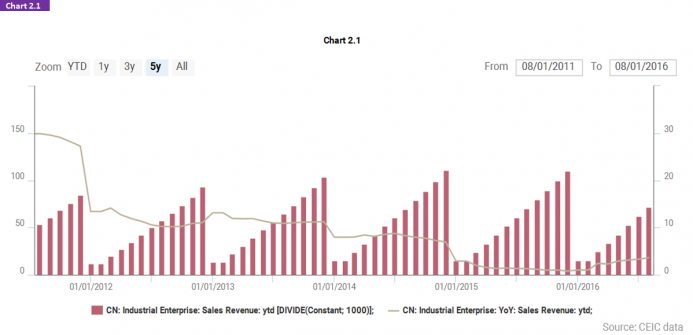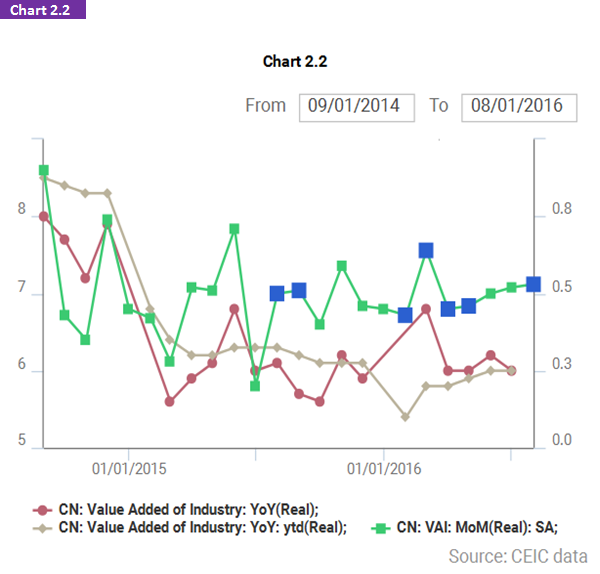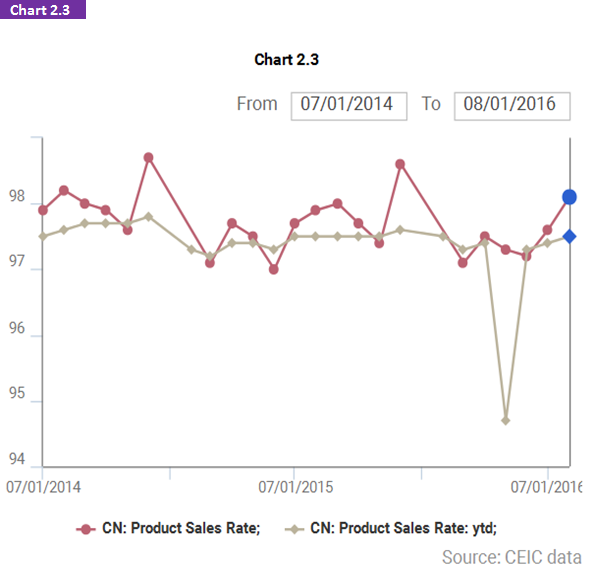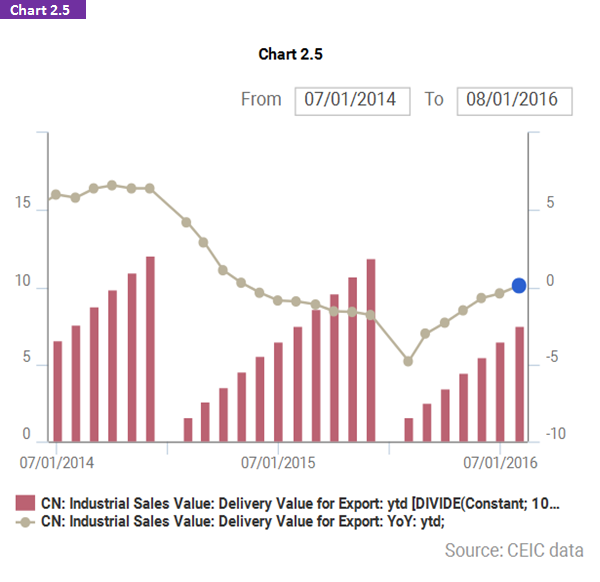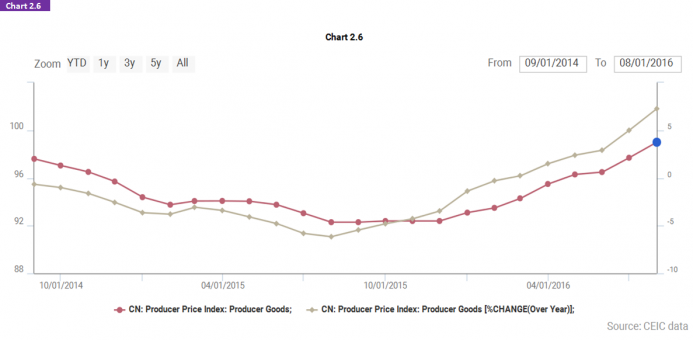 Declining Costs
Chart 3.1 & 3.2: Although total cost of sales increased by 3.4% YoY to Rmb61.6trn in August, the unit cost per Rmb100 revenue decreased by Rmb0.2 to Rmb86.14. In addition, the expense ratio further dropped from 7.58% to 7.55% for the same period.
Chart 3.3: Under the impacts of rate cuts last year, financial expenses of industrial enterprises continued to decline by 3.1% YoY to Rmb721bn.
Chart 3.4 & 3.5: Administrative and selling & distribution expenses rose 5.7% YoY amd 6% YoY to Rmb2.32trn and Rmb1.65trn, respectively, slowed down from 5.7% YoY and 6.3% YoY in July, which is a good sign.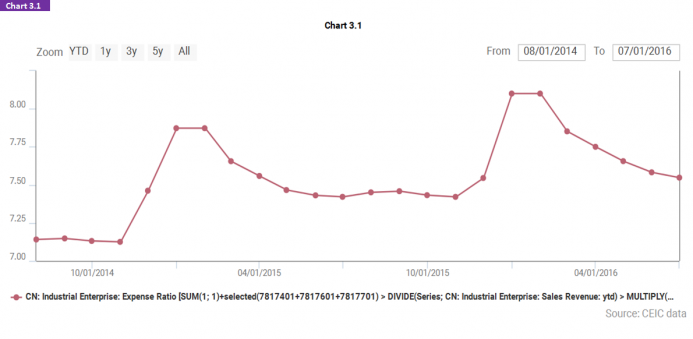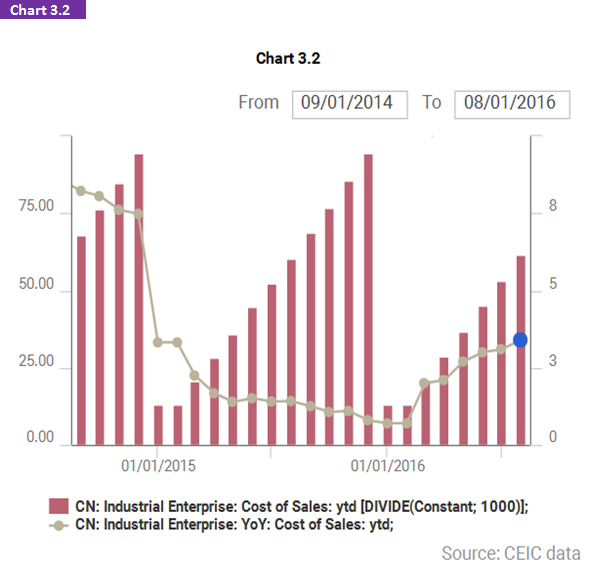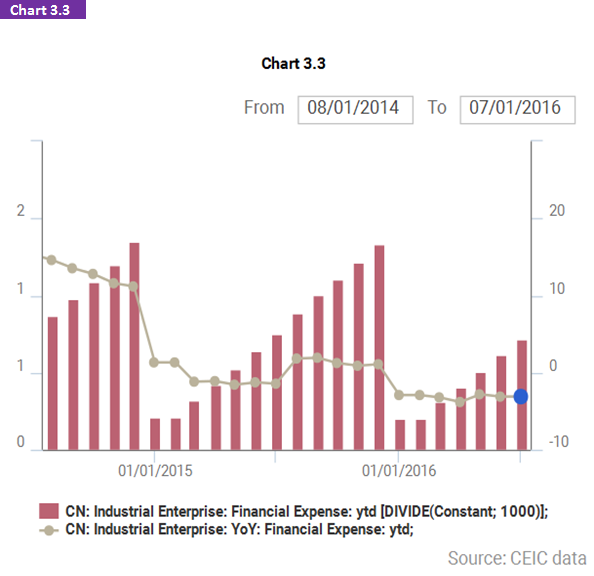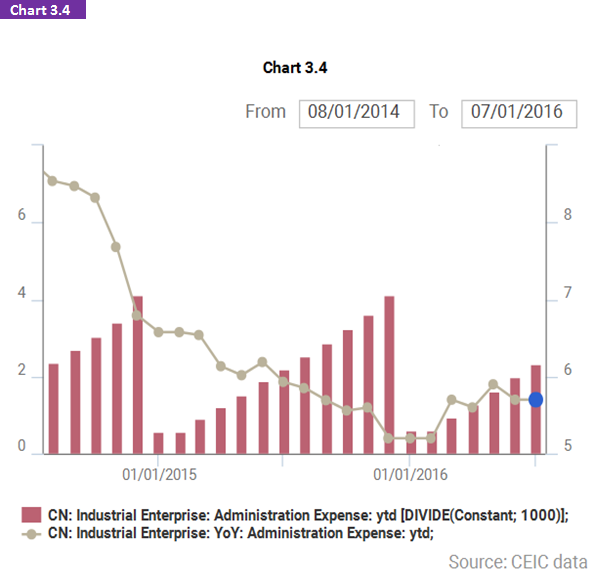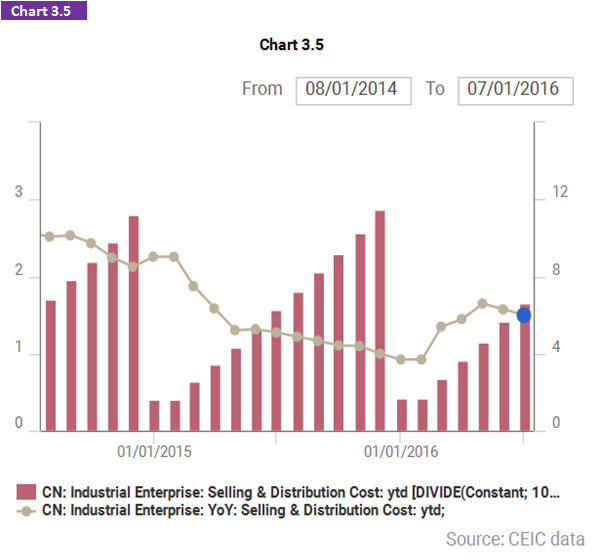 Major Industries
Chart 4.1 & 4.2 & 4.3: In terms of industries, automobile manufacturing, ferrous metal smelting & pressing, and petroleum, coking and nuclear fuel are the main three growth drivers of overall industrial enterprises' profits in August. To be specific, automobile manufacturing profit sharply increased 43.9% YoY in August, 24.9ppt faster than that of July. Due to the economic structural reform in China, profits of ferrous metal smelting & pressing enterprises added Rmb21bn, the highest single-month addition since the beginning of the year. For coking and nuclear fuel enterprises, profit addition in August was Rmb11bn, compared to last year, Rmb3.53bn more than that of July, thanks to the price hike.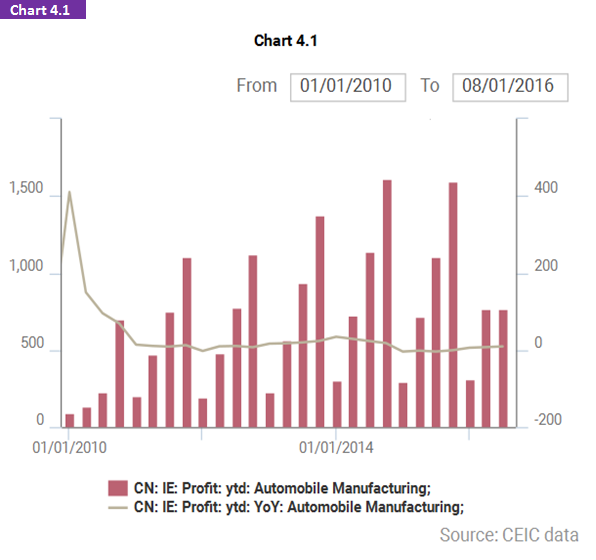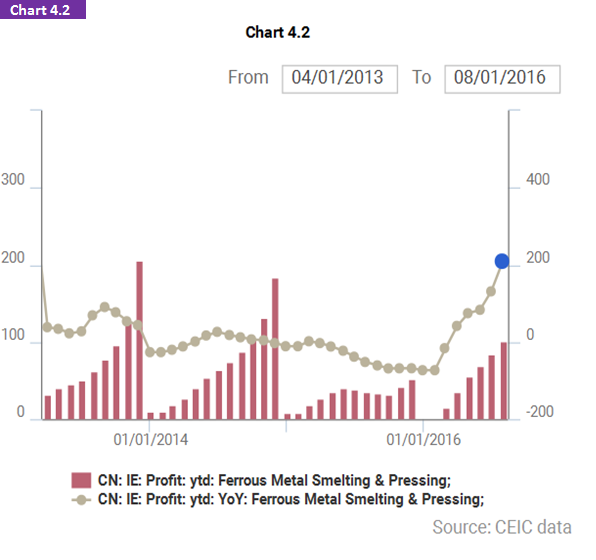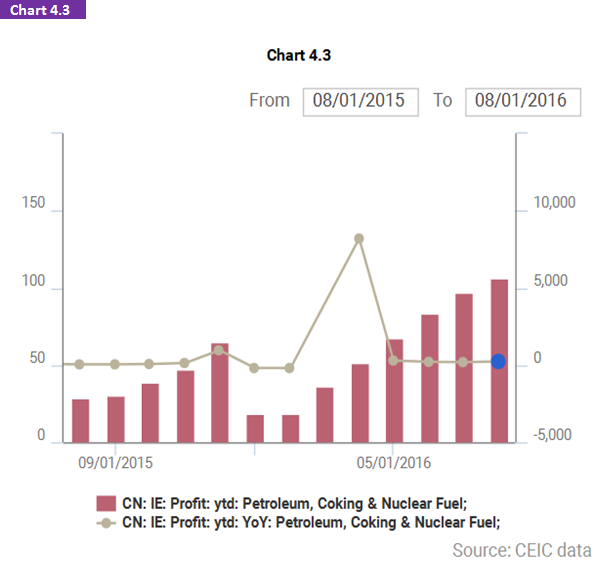 Discuss this post and many other topics in our LinkedIn Group (you must be a LinkedIn member to participate). Request a Free Trial Subscription. Back to Blog Summary